Chicago Pneumatic AIRnet Piping System
Your compressed air piping system plays one of the most vital roles in your production process. Chicago Pneumatics AIRnet piping system helps to deliver your air at the right pressure with the lowest possible price.
AIRnet piping consists of high quality components and distinguishes itself through flexibility and ease of installation. AirNet comes in many different diameters and lengths, so you are sure to get the piping system that best suits your application. For more information or to purchase an item, visit our Chicago Pneumatic Store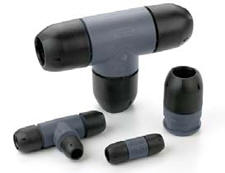 AIRnet is your COMPLETE SOLUTION
The AIRnet compressed air piping system is a complete solution from source to production thanks to its high quality aluminum pipes, its range of aluminum and polymer fittings from (" - 3") and variety of specialized tools, brackets and bushing.
AIRnet's thread assembly helps to make changing pipes and fittings easier than ever. Less stripped threads and your time savings helps to create a vast array of extension possibilities, and full control over the network.
Quick and Easy to Install
AIRnet piping is lightweight, robust and easy to cut. The innovative aluminum pipes can be installed safely by just one person without any training.
The polymer fittings provide perfect alignment, eliminating the need for welding, gluing or crimping
Pipes up to 1" can be tightened by hand, with instant air tightness.
The system can be pressurized immediately after assembly, limiting downtime to a strict minimum.
System Savings through Minimum Leakage
One benefit to the AIRnet system is the smooth inside surface. Because there is no resistance along the inside of the pipe, there is less friction for a faster air flow. Each pipe connection also includes an o-ring to create and airtight fit. Additionally, AIRnet's no corrosion material and minimal pressure drop ensures maintenance costs remain low. All of these together means that your air compressor is operating only when needed - saving you money!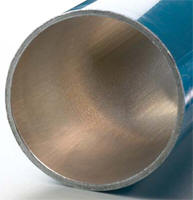 Smooth surface with low friction
No risk of corrosion when cutting the aluminium. Very low risk of leakage, which is not related to corrosion.
Fast deburring of the pipe. Pipes can be simply pushed into the fitting.
The fittings can be tightened by hand and secured with a spanner.
Modifying the network is easy: the fittings and pipes can be simply disassembled and re-used.
Other Competitors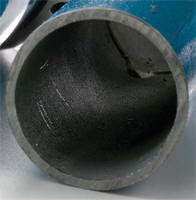 Rough surface with high friction for low air flow
Corrosion protection depends on galvanization quality.
When cutting the pipe, the galvanization is removed. The connection poses a high risk of corrosion at low level points where water can stagnate, resulting in a high risk of leakage.
Threading the pipe requires a certain level of experience to avoid future leakage.
The galvanized fittings need to be tightened using a spanner. The risk of leakage depends on the quality of the thread.
Modifying the network is often difficult: after disassembly, the pipes have to be cut, changed, threaded and re-assembled.