Atmospheric air contains water which is drawn in along with the air. After compression, the air and water are then discharged, with some of the water content being removed by an after-cooler and then discharged. However, a large proportion of the water vapor content remains in the compressed air, moving in the pipe distribution system as the air is consumed.
As time passes, the water can cause damage to pipes and applications, resulting in production downtime and higher maintenance costs. CPX dryers are machines designed for treating compressed air. By using the refrigerant characteristics of certain fluid, these dryers lower the temperature of the compressed air, causing water vapor to condense and discharge prior to it entering any distribution system.
CPX - Refrigerated Air Dryers
Sized to handle 12 to 2472 CFM, the CPX dryers fit any application. Extremely quiet and reliable, CPX dryers deliver dry air with minimal pressure drop.
Features:
Eliminates Water, Oil and Dirt from Air Systems
Prevents Damage to Tools and Cylinders, Adding to their Longevity
Fewer Finished Product Defects
Prevents "Fisheye" Paint Splotches
Reduces Operational Downtime
Eliminates Air Line Purging
Compact Design for Small Footprint
Quality Components for Efficient Cooling
Internal Layout and Enclosure Allow for Quite Operation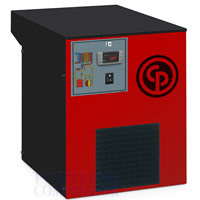 Below is a list of the most common Chicago Pneumatic air compressor dryers. There are many other models available that are combatable with various compressors. For additional information, please give us a call at 1-866-208-2797
Model
cfm@100
psig
Max Pressure
psig
Electrics
V/Hz/Ph
L
in.
W
in.
H
in.
Weight
lbs.
Refrigerant
Noise dBa
CPX 10
12
240
230/60/1
350
497
450
42
R-134a
50
CPX 20
21
240
230/60/1
350
497
450
42
R-134a
50
CPX 30
30
240
230/60/1
350
497
450
44
R-134a
47
CPX 40
42
240
230/60/1
350
497
450
55
R-134a
53
CPX 60
65
240
230/60/1
350
497
450
59
R-134a
53
CPX 80
83
240
230/60/1
370
500
764
97
R-404a
57
CPX 100
106
195
230/60/1
370
500
764
97
R-404a
57
CPX 125
127
195
230/60/1
460
560
789
117
R-404a
58
CPX 180
180
110/60/1
CPXHT - High temp dryers
A perfect complement to the RCP. With a maximum inlet temperature of 180F, no after-cooler is required. Included filtration eliminates dirt and oil giving you clean, dry compressed air. The CPXHT dryers are easy to install and have a compact design. Supplied with 115 Volt power means no special wiring is required and the space saving design incorporates an air cooled aftercooler, refrigerated air dryer, moisture separator, electronic water drain and coalescing filter.
Features:
Eliminates Water, Oil and Dirt from Air Systems
Prevents Damage to Tools and Cylinders, Adding to their Longevity
Fewer Finished Product Defects
Prevents "Fisheye" Paint Splotches
Reduces Operational Downtime
Eliminates Air Line Purging
Internal Layout and Enclosure Allow for Quite Operation
Quality Components for Efficient Cooling
Compact Design for Small Footprint
Model
50FPDP
cfm@100 psig
Use
with
Electrics
Heat
Exchanger
Max
psig
Refrigerant
L
in.
W
in.
H
in.
Lbs.
CPXHT-25
25
5HP
115/1/60
Copper
175
R-134a
17.5
19
18
85
CPXHT-50
50
10HP
115/1/60
Copper
175
R-22
28
20
30
128
CPXHT-75
75
15HP
115/1/60
SS/Copper
175
R-134a
28
18
40
183
CPXHT-100
100
20HP
115/1/60
SS/Copper
175
R-134a
28
18
40
194
CPXHT-125
125
25HP
115/1/60
SS/Copper
175
R-134a
28
18
40
200