Chicago Pneumatic Rotary Screw Air Compressors
Chicago Pneumatic is a leader in the design and manufacture of industrial rotary air compressors. Chicago Pneumatic specializes in belt drive rotary screw air compressors. These air compressors are engineered for high performance, efficiency and reliability. The Chicago Pneumatic line of QRS (Quiet Rotary Screw) air compressors can meet the compressed air demands of a tire shop, maintenance shop, vehicle body, paint shop or automotive dealership.
For more information or to purchase an item, visit our Chicago Pneumatic Store
---
Belt Drive Rotary Screw Air Compressors 3 to 15 hp
These smaller rotary screw air compressors are specially designed for tire, maintenance, and auto body shops. They provide quality, consistent air without the hefty price tag.
Quiet by design, the QRS can be installed almost anywhere. With standard mounted receiver tank and 5 Year Warranty, the QRS is the leading rotary screw compressor for light industrial applications.
Features:
Low Sound Enclosure
150 psig standard
125 psig available 10-15 hp
Continuous Operating Capability
60 gal. receiver (3-7.5 hp)
120 gal. receiver (10-15 hp)
ASME/CRN Receiver Tank
Tri-Voltage, TEFC Motor
UL and UL-C Approved Control Panel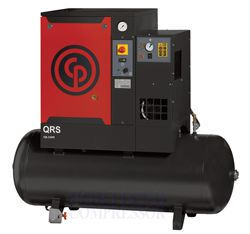 Model
QRS 3.0
QRS 5.0
QRS 7.5
QRS 10
QRS 15
HP
3
5
7.5
10
15
acfm @ 125 psig
N/A
N/A
N/A
37
52
acfm @ 150 psig
8.5
16.6
21.2
33
47
Max Pressure
150
150
150
128/150
128/150
Sound Level (dBA)
61
62
64
66
68
Length (in.)
56
56
56
73
73
Width (in.)
22
22
22
24
24
Height (in.)
50
50
50
58
58
Net Wt. (lbs)/ Shipping Wt. (lbs)
HP (w/o dryer)
463/485
463/485
468/490
775/845
815/885
HPD (w/ dryer)
543/565
543/565
548/570
850/920
890/960
Quiet Rotary Screw 20 to 30 hp
The QRS 20-30 are rugged, rotary screw compressors that combine stealth with superior performance. Ideal for automotive and light industrial applications, the QRS is engineered and built to support the most demanding requirements. The QRS 20-30 compressors run cool and quiet. The dedicated turbine fan provides superior cooling for the entire compressor package while the high efficiency air/oil coolers ensure the 8,000 synthetic lubricant transmits heat away from the air-end. The QRS 20-30's do not require power consuming oil pumps, and with proper maintenance, performance will not degrade over time.
Features:
Low Sound Enclosure
100 - 125 - 150 - 175 psig
Continuous operating capability
Space saving design, <12 sq. ft.
Maintenance < 15 minutes
Electronic microprocessor control
Wye-Delta, reduced-voltage start
Load/No load with intelligent shutdown
Chicago Pneumatic secure 5-year Warranty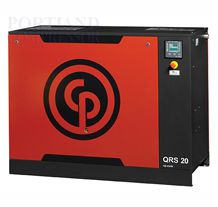 | | | | | | | |
| --- | --- | --- | --- | --- | --- | --- |
| Model | QRS 20 | QRS 20-HPD | QRS 25 | QRS 25-HPD | QRS 30 | QRS 30-HPD |
| HP | 20 | 20 | 25 | 25 | 30 | 30 |
| acfm @ 100 psig | 90 | 90 | 111 | 111 | 130 | 130 |
| acfm @ 125 psi | 84 | 84 | 99 | 99 | 122 | 122 |
| acfm @ 150 psig | 74 | 74 | 94 | 94 | 109 | 109 |
| Sound Level (dBA) | 63 | 63 | 66 | 66 | 68 | 68 |
| Length (in.) | 53 | 69 | 53 | 69 | 53 | 69 |
| Width (in.) | 31 | 31 | 31 | 31 | 31 | 31 |
| Height (in.) | 48 | 73 | 48 | 73 | 48 | 73 |
| Base Weight | 893 | 1313 | 913 | 1333 | 948 | 1368 |