Graco G-Force Pressure Washers
Graco G-Force Pressure Washers are known for their performance and reliability. Graco has power washers for everyone - from a homeowner to a professional contractor. Graco washers are designed for ease of use and light maintenance. Along with the washers, Graco carries a wide range of accessories, with everything from guns and hoses to Surface Cleaners, and is known throughout the industry for their parts availability.
All Graco Pressure Washers feature Graco's G4 Warranty. The overall warranty however will depend on the washer you have. Most of the larger belt drive washers feature a 3-Year Warranty, 2-Year Honda Engine Warranty and a 5-Year General Pump Warranty.
The medium sized washers usually feature a 90-Day Briggs and Stratton warranty on the 2730B and a 2-Year Warranty on the 4043. For more information, visit our Pressure Washer Store to help determine your washers warranty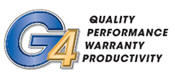 ---
Compact & Portable Pressure Washers
The G-Force 2525 DD is the best choice for light to medium duty applications. This pressure washer is designed to provide consistent reliability in a compact, portable package. Great for any job!
---
Heavy Duty Direct Drive Pressure Washers
The G-Force II 3032 DD, 4040 DD, 4040 DDC are built tough to handle any heavy-duty application. With high performance and built-in conveniences, these sprayers can be used to clean commercial buildings, bridges and water towers. No job is too big!
---
Severe-Duty Belt-Drive Pressure Washers
The G-Force 4035 and 4043 BD pressure washers are Graco's top-of-the-line units, designed to tackle the toughest cleaning jobs. They offer features that are required for heavy to severe duty applications. Use these pressure washers for the most demanding jobs.