Graco SmartDie II ThermoLazer Dies
Along with the new ThermoLazer , Graco's user-friendly, innovative thermoplastic line striper, is the SmartDie II System. Built using heavy-duty steel, and with no springs (that's right, NO springs), this die can remain on the unit, be cleaned on and with the ThermoLazer unlike most thermoplastic stripers which require the die to be removed. The exclusive, 'spring-less' design allows the die to "float" on the striping surface.
Using different ThermoLazer dies determines the width of the line that will be sprayed. Graco has created a wide range of sizes, which means that you are sure to find a specific size that is right for your application.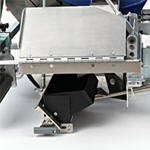 This is a new generation in screed box technology, and only from Graco.
The SmartDie II System is a 'no-tool' installation and removal die for quick and simple line width changes. Great for intersection work.
No springs to break or bog you down - saving you time, headache and money.
Double-dies for striping two lines at once.
---
| SmartDie II Sizes Available | Part Number |
| --- | --- |
| 3" SmartDie II Screen Box | 24H431 |
| 4" SmartDie II Screen Box | 24H426 |
| 5" SmartDie II Screen Box | 24H432 |
| 6" SmartDie II Screen Box | 24H427 |
| 7" SmartDie II Screen Box | 24H433 |
| 8" SmartDie II Screen Box | 24H428 |
| 9" SmartDie II Screen Box | 24H434 |
| 10" SmartDie II Screen Box | 24H429 |
| 12" SmartDie II Screen Box | 24H430 |