Ingersoll-Rand Air Compressor Lubricants
Selecting the proper air compressor oil is a necessity to ensure its longevity. Using the incorrect style of oil may degrade the internal components of the pump and motor. Air compressor manufacturers require a special type of lubricant for a reason - they want their products to last. Ingersoll Rand is no different.
IR has a variety of compressor oil to meet each machines needs. Below is a brief description of a few of IR's oil, as well as the types of machines that they most commonly are used with. It is strongly recommended however that you give us a call at 1-866-203-2944 before you buy - as a way to ensure that you compressor will last for years to come.
T30 Small Reciprocating Lubricant
Ingersoll Rand All Season Select lubricant is a synthetic, all-temperature blend that is designed to increase efficiency, reduce wear and prevent carbon buildup. It performs four times longer than petroleum-based lubricants. Recommended 2,000 hours of service between lubricant change-out under normal operating conditions.
Ultra Coolant
Ingersoll Rand Ultra Coolant is an engineered polyglycol based coolant designed to achieve peak compressor performance for contact cooled rotary screw air compressors. Ultra Coolant's unique formulation allows for long life, excellent cooling performance and improved compressor efficiency.
Ingersoll Rand also offers a high quality food grade lubricant designed specifically to help customers in the food and beverage industries meet their production quality standards. Ingersoll Rand's X-tend H-1F Food Grade lubricant is designed to work in conjunction with our H-1F coolants to extend the life of food grade coolant up to 8,000 hours, the longest life of any food grade coolant today.
Ultra Plus Compressor Coolant
Ingersoll-Rand's exclusive Ultra Plus Coolant, an advanced synthetic lubricant based on molecular chemistry used in today's aerospace technologies, was developed to improve the efficiency and value of Ingersoll-Rand's UP-Series rotary screw air compressors. Reduces friction and delivers lower rates of wear than possible with conventional lubricants Lower maintenance costs superior performance allows drain intervals to be extended to 9,000 hours.
Non-Synthetic Piston Compressor Oil
XL-300 compressor oil is a non synthetic oil that is used in small reciprocating compressors (both one and two stages units). This oil is free from chemical treatments and all additives, and is what Ingersoll Rand recommends when using their small recip compressors.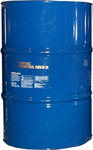 Centrifugal Lubricant
Ingersoll Rand's Techtrol Gold centrifugal lubricant is a super-refined synthetic fluid with exceptional performance and life that surpasses all other mineral based lubricants. Techtrol Gold has superior high temperature characteristics and a high viscosity index that protects the compressor over a wide range of operating temperatures.
Ingersoll Rand also carries OCV-Zero Fluid Lubricant, a diester based lubricant specifically designed for our CV0 centrifugal compressor model.
Food Grade Lubricant
Ingersoll Rand's Food Grade Oil is specifically designed for those compressor owners who are looking for a lubricant that will enhance the performance of your rotary screw compressor. Using this oil will ensure the longest life out of your compressor without subtracting the food grade purity, and it is designed specifically to help customers in the food and beverage industries meet their production quality standards.