Wagner SprayTech Paint Crew
The Wagner SprayTech Paint Crew airless paint sprayer is one of the most common sprayers on the market. Designed for the home-owner who sprays once or twice a year, the Paint Crew is able to spray all the common household materials, from stains and primers to latex.
The SprayTech PF20 features contractor quality, such as the easy to use all metal spray gun, that is designed to last many years. The airless sprayer comes pre-assembled, is lightweight, and features simple to operate controls. The convenient carrying handle also makes moving around the job-site a breeze
Specifications

Gallons Per Minute
0.20
Horse Power
3/8
Max Tip Size
0.015
Maximum Pressure
2800
Gallons Per Year
50
Tip type
Wagner or
Graco RAC IV
Hose Size
1/4" x 50
Voltage
110-120
Shipping Weight
24 Pounds
---
Included with the PF20 Paint crew is a 25' airless sprayer hose, an all metal spray gun, as well as a tip housing and a 413 paint sprayers tip. The metal spray gun is designed to last many years, with such features as an in handle gun filter, and a 7/8" threaded housing connection to fit virtually all tip guards on the market (including Graco!).
The included 413 airless spray tip is able to spray virtually all common household paints, including solid stains, varnishes, oils, primers, latex, and more! The SprayTech tip is also reversible, meaning that if the tip clogs, you simply have to turn the tip 180, trigger the gun, and the clog will be blown out!
More information on Reversible tips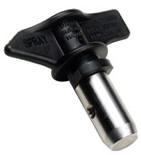 ---
Wagner/SprayTech Parts
The chart listed to the right shows the common replacement parts for the PF20 Paint Crew. The PF20 is the exact same as the Wagner 770 and the Wagner Paint Crew, therefore each part is compatible with the other machines as well.
We also carry other Wagner and SprayTech parts in stock that are not listed on our website. Being an authorized SprayTech distributor, we are able to order in any products that are either not carried in stock or not listed on our website.
---
Accessories for Wagner SprayTech Paint Sprayer
Virtually all accessories used on other manufacturers spray guns and painters will work with SprayTech as well....for a lower price! If you need a tip extension, look no further than the Graco Magnum 20" or 30" tip extensions on sale now!
The tips on a ProForce 20 are interchangeable with Graco RAC IV and RAC V spray tips, therefore if a SprayTech dealer doesn't have the proper tip size available, you can always switch over to a Graco Tip!