The SprayTech PF 23 Airless Paint Sprayer is an excellent choice for the do-it-yourselfer, handyman, property manager or part time painter.
The PF23 is a durable and lightweight sprayer that combines easy to use features in an attractive package to keep your mind at ease. This affordable paint sprayer will cut your painting times in half, saving the operator both time and money.

The PF23 features a piston style spray pump, unlike many of the competitors diaphragm pumps. Piston pumps deliver paint on both the upstroke and the down-stroke of the rod, resulting in a less costly and more efficient sprayer.
Another benefit to the ProForce 23 is the pressure control system. Unlike the PF20 or the Wagner 770, the PF23 has a pressure control knob that regulates the amount of paint coming out of the sprayer. For example, instead of automatically building up to 2700 PSI, the operator can adjust the pressure down if spraying thin materials, such as stain or varnish, resulting in a finer finish and less wasted paint. This is a great feature to have if spraying decks, fences, or cabinets.
---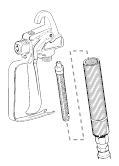 Wagner SprayTech PF23
Specifications

Gallons Per Minute
.25
Horse Power
1/2
Max Tip Size
.015
Maximum Pressure
2800
Gallons Per Year
50
Tip type
Wagner or
Graco RAC IV
Hose Size
1/4" x 50
Voltage
110-120
Shipping Weight
25 Pounds
---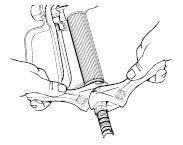 Many times when people experience an issue with their airless paint sprayer, it is due to a stuck lower ball in the bottom of the fluid section. This occurs when paint dries in between the ball and the lower seat.
To counteract this problem, SprayTech created the all new "Pusher Stem" feature. If the ball is stuck, simply push in the stem, and a small dowel will knock the ball loose. This new feature not only saves time, but decreases those costly repair bills that are associated with having to take the sprayer into a sprayer rebuild shop.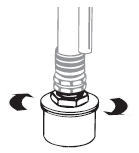 The Metal-Flex suction set (a.k.a. the tube that sits in the paint and waste bucket) has metal threads where it attaches to the sprayer - the older version had plastic threads.
As you can probably guess, the metal threads are going to last longer, resulting in less leaks and a stronger connection to the sprayer when painting at higher pressures.
---
You may have noticed that the ProForce 23 has many similar parts as other Wagner and SprayTech sprayers. This is because the PF23 has the exact same parts as both the Wagner 9140S and the SprayTech Apex 1420.
The only difference between these machines are the cosmetics and the label, however all three are built by Wagner / SprayTech Corporation.
The chart to the right shows many of the common parts for the PF23, Wagner 9140S, and the Apex 1420.

Not seeing the part you are looking for? Give us a call at 1-866-208-4023