Graco RAC X Airless Sprayer Tips and Tip Guards
The Graco RAC X System
Graco RAC X SwitchTip reversible airless paint sprayer tips are the longest lasting on the market. We feel they are the best airless sprayer tip you can buy! Get the best tip for the best job - just say "Rack Ten"
Graco's Latest Line of Airless Spray Tips - RAC X
Designed with the contractors' needs in mind, these job-specific spray tips give you long life, a superior fan pattern, and a high-quality finish.
Spray tips that get the job done faster and also last longer, saving time, energy and money on every job.
Designed for the contractor, these spray tips have a long life, a superior fan pattern and a high quality finish.
The RAC X SwitchTip has the longest-lasting fan pattern on the market and delivers 50% more life!*
The RAC X WideRAC SwitchTip delivers a 24 inch spray pattern.
The RAC X Fine Finish SwitchTip offers superior atomization.
Graco took customer suggestions and coupled them with the latest technological advances to bring you the best tips on the market!
Spray better with the RAC X!
Designed to give you exceptional results.
RAC X SwitchTip
RAC X HandTite™ Guard
OneSeal™ Gasket
Experience breakthrough performance!
Superior atomization
All RAC X Airless Tips feature OneSeal design
Maximum Working Pressure: 4050 psi
Use RAC X Tips only with RAC X Guards. Not interchangeable with RAC 5 Tips.
Raised Tip Size Number Easy to read tip size, even when coated with paint!
Locking Tab
Ensures tip stays securely in guard
"Snaps" tip into spray or reverse position
Easy Turn Design
Change orientation of guard, from vertical to horizontal, without loosening the nut
Improved OneSeal Design
Solvent-resistant for all coatings
Easier tip insertion and rotation force
Benefit of RAC X tips versus RAC 5 and Competitor Tips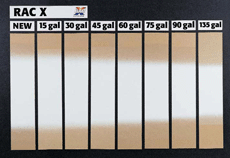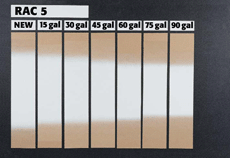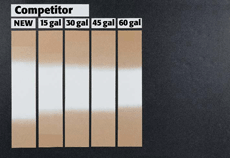 Graco WideRAC RAC X Tips
WideRAC airless spray tips covers double the area in half the time. WideRAC increases the flow rate to ensure the proper mil build
Specifically Designed For:
24 in (610 mm) spray fan for maximum coverage
Increased flow rate ensures the proper mil build
Optimized for interior and exterior latex paint and primer