Graco Xtreme Sprayers with NXT Technology
Graco Xtreme NXT high-pressure air-operated airless sprayers provide long-lasting durability that boosts your productivity. Designed with Graco's new NXT Air Motor, the Xtreme NXT is proven to outperform and outlast all other sprayers in its class. It easily handles the toughest protective coatings and corrosion control materials.
The Xtreme NXT also provides easy access to its integrated air controls, a de-icing feature and reduced noise. And with more models and configurations to choose from, you get the precise pressure and output you need for your high performance coatings spraying applications
New features with the latest version of the Xtreme NXT
New Modular Air Valve
De-ice controls reduce icing Up to 50% quieter than past models
Eliminates stalling
Easy to repair
DataTrak Control
Runaway Protection
Diagnostics
Material Usage
Optional Accessories

Advanced Integrated Air Controls
Easy turn regulator
Front mounted for easy access
Compact and modular
Build in filtration

---
Less pulsation for better results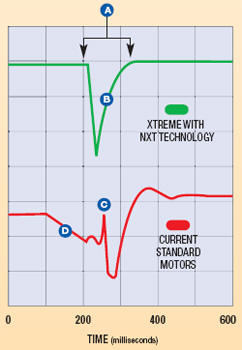 Less than 1/15 of a second changeover
Quick recovery with less pulsation
Pressure spike at changeover
Longer changeover causing pulsation
Noise-reduction technology
Improved technology has resulted in not only a quieter motor than most competitors models, but also a quieter motor compared to past Graco Xtreme paint sprayers
Graco Xtreme Sprayer Specifications
Model
X25
X30
X35
X40
X45
X46
X50
X55
X60
X70
X80
X90
Output Per Cycle
290cc
220cc
115cc
180cc
290cc
145cc
250cc
115cc
220cc
180cc
85cc
145cc
Motor Size
NXT 3400
NXT 3400
NXT 2200
NXT 3400
NXT 4500
NXT 3400
NXT 6500
NXT 3400
NXT 6500
NXT 6500
NXT 3400
NXT 6500
Maximum PSI
2375
3150
3800
3800
4550
4750
5200
5950
6000
7250
7250
7250
Max Air Input PSI
100
100
100
100
100
100
100
100
100
100
100
80
Max Free Flow GPM
13.8
10.0
6.0
8.5
13.8
7.5
11.3
6.0
10.0
8.5
4.5
7.5
GPM at 60 CPM
1.6
3.4
2.0
2.9
4.6
2.3
4.0
2.0
3.4
2.9
1.5
2.7
Graco XHD Heavy Duty Sprayer Tips
The Graco Xtreme sprayer uses Graco's XHD heavy duty paint sprayer tips. These gray handled heavy-duty tips can be used with virtually all paints and coatings - solvent and water-based. These tips are anchored with a screw in the heavy duty guard, which prevents tip loss. Use where vibration is a factor or situations where tip loss would be a problem such as on bridges. Requires the Heavy Duty RAC Tip Guard.
Orifice size - inches (thousandths)
Fan Size
.007
.009
.011
.013
.015
.017
.019
.021
.023
.025
.027
.029
.031
.033
.035
2-4
107
109
111
113
115
117
119
121
129
4-6
209
211
213
215
217
219
221
225
227
229
231
235
6-8
307
309
311
313
315
317
319
321
323
325
327
329
331
333
335
8-10
409
411
413
415
417
419
421
423
425
427
429
431
433
435
10-12
509
511
513
515
517
519
521
523
525
527
529
531
533
535
12-14
609
611
613
615
617
619
621
623
625
627
629
631
633
635
14-16
711
713
715
717
719
721
723
725
727
729
731
733
735
16-18
813
815
817
819
821
823
825
827
829
831
833
835
18-20
923
927
931
933
935
Orifice size - inches (thousandths)
Fan Size
.037
.039
.041
.043
.045
.047
.049
.051
.053
.055
.057
.059
.061
.063
.065
.067
.069
.071
.075
.081
2-4
139
4-6
239
6-8
337
339
341
343
345
347
349
351
355
8-10
437
439
441
443
445
447
449
451
455
461
463
465
467
471
475
481
10-12
537
539
541
543
545
547
549
551
553
555
557
561
563
565
567
571
575
12-14
637
639
641
643
645
647
649
651
655
657
659
661
663
665
667
669
671
675
14-16
737
739
741
743
747
749
751
753
755
761
763
767
771
16-18
837
839
841
843
847
849
851
855
861
863
867
18-20
937
939