Graco TrueCoat Pro II Cordless Airless Paint Sprayer
Now with ProControl pressure control! New Tilt-N-Spray pendulum suction tube! This paint sprayer is fully rebuildable! More powerful 20V Li-Ion battery!
This is the 2nd generation of the popular TrueCoat hand-held airless paint sprayer. There are many new features and changes to make it the best handheld sprayer you can buy. Now also available in an electric / plug-in model - TrueCoat Pro II Electric.
Powerful 20V Li-Ion Batteries
Spray up to 1 gallon of paint with each fully charged battery
Batteries are compatible with prior 18V TrueCoat Pro and chargers
ProControl Pressure Control
Adjustable pressure control for better finish

Low pressure for thin materials
High pressure for thick coatings

Provides for a wider range of materials that can be sprayed
Reduce overspray with thinner coatings by reducing pressure
Numbered positions for quick return to previous settings

---
Pump Armor Storage & Start-up Tool Kit
Put Pump Armor in the TrueCoat Pro II to protect the internal pump and components from corrosion. Can also be used as a start-up tool - clear the intake valve and prime at the same time.
Tilt-N-Spray Suction Tube
Spray up down or sideways without loosing the prime like a spray gun on a hose
The pendulum suction tube moves to lowest point in the cup...
Use virtually all material = fewer refills
Fully Repairable / Rebuildable
Now all parts and modular components can be replaced which can extend the life of the whole cordless paint sprayer.
More Compact Design
Fits into tighter areas better with smaller, more packed design.
ProSpray Technology
Pro quality finish like Graco's Contractor Grade paint sprayers.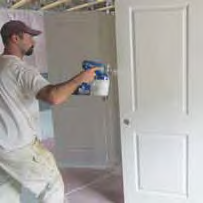 Includes All This!
TrueCoat Pro II Cordless Airless Sprayer
2 20V Li-Ion Battery Packs
Battery Charger
A TrueCoat Pro 515 Airless Spray Tip
32 oz. Material Cup with Cover
5 Cup Liners
Pump Armor Storage / Startup Tool Kit
Instructional DVD
Storage Case (holds ALL these items)